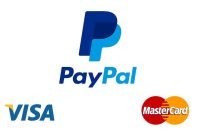 Free PayPal money sounds nice, but are there actually safe and legitimate ways to get it?
It depends on your definition of "free."
No company will send you free PayPal money instantly just to be nice. But many (including PayPal itself) will pay you for doing things like downloading an app, testing a service, referring a friend, taking a picture of a grocery receipt or scanning product barcodes.
And while you'll never get rich completing these small tasks, you can earn a surprising amount of money with little effort.
In fact, one strategy from the list below earned us $240 for less than an hour of total time spent:
Ready to get started?
Scan the table below to jump directly to the options you're most interested in. Note that we prioritized offers that credit to your account instantly, as well as those that offer the most earning potential.
Swagbucks is a popular rewards and cash-back site that offers a number of ways to earn free PayPal money, including answering surveys and getting rebates through its cash-back shopping portal.
In fact, there are over 20 different ways to earn points on the site. And to date, the company has paid out over $740 million in rewards to its members. The points you earn are redeemable for a PayPal deposit or gift cards, and you can get a $10 sign-up bonus when you join using this link.
Out of all the earning methods available on Swagbucks, our favorite (and the best use of your time) is the site's so-called "money makers," which are offers where you spend a little bit of money up-front but get paid more in rewards than you spent.
You can earn big with these offers, but there's often a 30 to 60 day waiting period for points to hit your account.
Swagbucks tips:
Check out our list of the best Swagbucks hacks to learn what's worth your time on the platform.
For a deep dive into how the site works, check out our Swagbucks review.
Earn bonus points for hitting weekly and monthly activity goals. In the app, you'll see a meter showing your progress towards your daily goal as well as your seven, 14, 21 and 31-day targets. You can earn hundreds of extra points per month through consistent usage.
Payment methods: Swagbucks allows you to redeem your points in a few different ways. You can choose to receive a PayPal deposit, select a gift card from dozens of major retailers, or use your points to enter "Swagstakes," which are sweepstakes for items like computers, video game consoles and gift cards.
Minimum withdrawal amount: Swagbucks has no minimum withdrawal amount, although most gift cards start at $3 (300 points). PayPal deposits are usually available in the amounts of $5, $10, $25, $50, $100 and $250.
Also, it's important to note that Swagbucks will only deposit funds into a PayPal account with the same email address as your Swagbucks account.
How long it takes to get paid: You'll have to verify your account, which can take anywhere from one to 10 days. Once you're verified, it usually takes about two days to receive your rewards.
Over the last few years, PayPal itself has offered numerous ways to earn free money. These offers come and go quickly, so you want to jump on them while you can.
One of the company's long-running promotions is a general referral bonus, where you can earn $10 per new PayPal user you send to the platform. You can read more about that offer in the next section.
The latest offer from the company is a promotion for its cryptocurrency portal, where you can buy and sell Bitcoin, Bitcoin Cash, Ethereum and Litecoin — all from within your PayPal account.
You can earn $10 relatively easily: just refer a friend, who must then buy $5 worth of crypto. When they do, you'll both earn $10.
We ranked this method ahead of the general referral bonus because we think it's easier to refer friends who are already on the platform. All they have to do is buy $5 worth of crypto, which takes about 30 seconds. They get a $10 bonus, and they can turn around and sell their crypto whenever they want.